Envases 'Climate neutral' tinplate keg
Envases has completely offset its CO2 emissions for its party kegs on request from customers.
The certified "climate-neutral" label on the five-liter keg from Envases creates consumer confidence and strengthens the beer brand it contains, the company has revealed.
"The topic of sustainability is a new challenge for all of us. Companies are also taking their impact on the environment more and more seriously – this includes CO2 emissions as well as the consumption of resources," commented a statement from Envases. "Envases is actively advancing and making its five-liter barrel 100 percent climate neutral. Because the world market leader in mini-kegs is well aware that the importance of sustainable offers to customers is growing.
"We are therefore consistently preparing for sustainability as a guiding theme to have a significant impact on the future.
89 percent of Germans want companies to be more sustainable. 42 percent of consumers are actively sustainability-conscious. This is the result of the study "Sustainability in Focus" published in February 2021 by the market research institute Rohmund Insights. The corona crisis has even strengthened the future trend towards more sustainability.
Five-liter kegs from Envases are 100 percent climate-neutral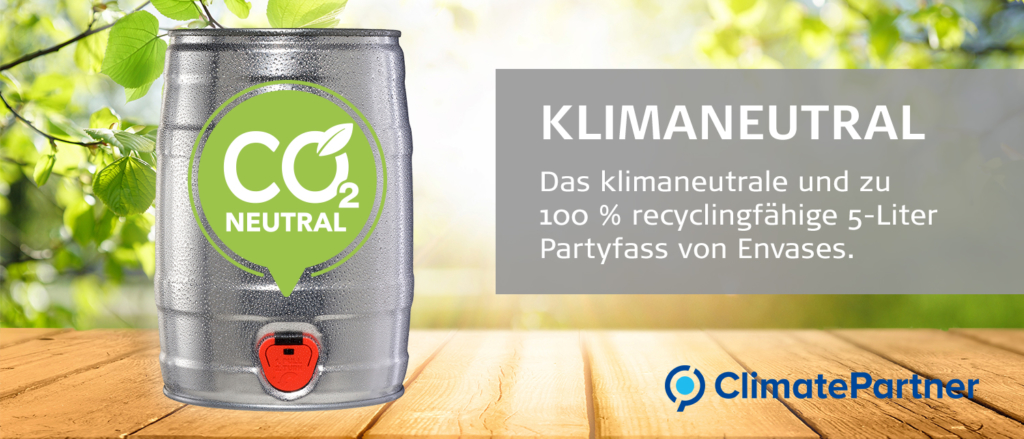 But Envases wants more: The declared aim is to offer the five-liter barrel completely climate-neutral. The company then offsets the unavoidable emissions by supporting recognized climate protection projects. Here Envases works with Climate Partner . The compensation of the respective emissions can be traced by a unique ID number and is confirmed by a certificate. ClimatePartner guarantees transparency with this clear identification system in connection with a TÜV Austria certified IT solution.
The Minikeg market leader from Öhringen has decided to support a very special project: A hydroelectric power plant in the Virunga National Park in the Congo, which supplies 30,000 residents with cheap and clean electricity, finances itself by purchasing the corresponding CO2 certificates. It counteracts the illegal coal trade and saves CO2 emissions. Without this alternative energy, the forest would be cleared in ten years – and the habitat of some of the last mountain gorillas. After all, climate protection is a global challenge!
"With the option of ordering our five-liter keg completely climate-neutral, we are offering our customers an important additional argument for consumers," emphasizes Envases marketing specialist Michael Tischler. The certified "climate neutral" label, which is visibly printed on the Envases mini-keg, creates trust. At the same time, the consumer is given an additional argument to prefer the corresponding beer brand.
"At Envases, we are aware: Everyone has to pull together to achieve more global climate protection! The company's sustainability management is therefore currently adjusting the screws in many areas. The climate-neutral party keg is an important building block, which will be followed by many more efforts and projects. Because the decisive decade for climate protection has already begun."
The original article was first published in minikeg.blog